Whether you're a seasoned professional in the BDSM lifestyle or someone who's just dipping their toes into the world of fetish and power exchange, BDSMDate is an online dating platform with a lot to offer. This review will outline the registration process, features, and peculiarities of this popular website to help you decide if it's the place for you.
Registration Process
When signing up for an account on BDSMDate, users are asked to provide basic information such as name, email address, desired username/password and brief intro/summary. After this, members can fill out detailed profile fields that include age, sexual orientation, kinks/interests and any other relevant data. While not required (or even recommended), uploading pictures or videos to your profile page is also available.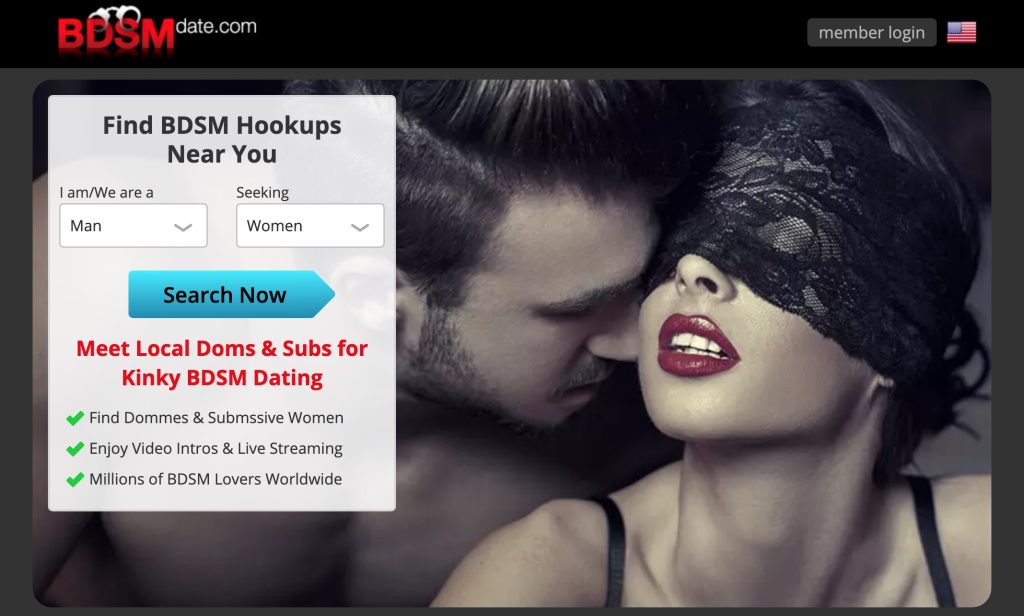 Do's and Don'ts when Using BDSMDate
👍Do's
👎Don'ts

Read the FAQ and Terms of Services before signing up to make sure you understand the rules and guidelines for using the platform
Set up a secure password for your account with a mix of uppercase, lowercase, numbers, and special characters
Use their filtering options to quickly find compatible partners
Be creative in your profile – get it noticed by other users by sharing interesting details about yourself
Remain respectful of other users on the site and ensure that any content you post is in accordance with the Terms of Service

Don't post explicit photos or videos as they are frowned upon by the community and not allowed on the platform
Don't be afraid to report suspicious behavior or inappropriate content if you come across it during your search for partners online
Don't give out personal information such as address or phone number until you've established an online connection with someone compatible
Don't use offensive language or make rude comments to other members
Features
To get started searching for eligible partners or potential submissives right away, BDSMDate offers key-word search settings so that users can easily find compatible connections according to individual tastes and preferences. Additionally, each member may create custom "hot list" entries in which they can save searches as well as profiles of interest to come back to later.
BDSMDate also provides a "conversations" feature for users where messages sent with other members are stored privately both on the app itself and in the user's personal email account for easy reference.  On top of that, a variety of additional features exist, such as newsfeed sorting functions as well as ways to post status updates/blogs and join groups/clubs dedicated to various fetishes or areas within the community.
Peculiarities
One noteworthy peculiarity of BDSMDate is its intentional focus on catering towards more experienced practitioners from the outset: rather than loading up one's profile with checklists full of potential scenarios (which might put off some newcomers) all users are given equal footing regardless of their experience level – though those who wish to create detailed play partner profiles may do so at their own discretion should they choose!    Additionally, due to its core focus on promoting encounters between consenting adults only with respect for all parties involved, excessive explicit material (including nudity) is prohibited from being uploaded publicly – keeping things tasteful while still facilitating social connection among likeminded individuals.
Pros & Cons
The advantages provided by using a service such as BDSMDate are numerous – namely finding people quickly and securely without worrying about having one's identity exposed outside their area(s), plus access to exclusive activities-based groups, which makes meeting others even easier! On top of this, there are several key downsides associated with using any kind of online dating service, most notably privacy concerns (as mentioned above) but also susceptibility towards 'catfishing' scams since many accounts created here do not require verification checks prior to signup (though there are still ways around this). Ultimately though, most users consider these drawbacks minimal, especially when compared against what can be gained from meaningful real life relationships found through virtual ones initiated by apps like this one!
Pros of BDSMDate.com:
Quick and easy registration
Comprehensive search filters to help you find compatible partners quickly
Private messaging and a discreet newsfeed feature
Ability to post status updates/blogs, join groups/clubs related to various fetishes or areas within the community
No verification process required for signing up
Cons of BDSMDate.com:
Some members may be more experienced than others which could lead to an imbalance in knowledge sharing
There are no video chat options available on the platform yet

Conclusion
Overall then, it seems clear that BDSMDate stands out from other niche dating sites due its unique combination of features tailored specifically towards experienced kinky enthusiasts looking for proper compatibility with fellow participants in the lifestyle – couples particularly benefit from being able to quickly search through multiple partners depending upon specific interests rather than randomly stumbling across them organically via traditional methods like bars/clubs, etc. It also avoids some common pitfalls found elsewhere by explicitly prohibiting certain types content ensuring everyone remains respectful even when exploring topics related sensation play, etc. In short, then, whether you're a curious noob or a confident sadist, there's something here worth discovering & exploring – just remember, always stay safe and know what lines shouldn't be crossed before engaging in virtual bedroom games!
FAQ
What is BDSMDate.com?
BDSMDate.com is an online dating platform specifically designed for people in the BDSM lifestyle and those interested in exploring fetish and power exchange. The website provides key-word search settings and customizable hot list entries to help members find compatible connections, as well as private messaging, newsfeed sorting functions, and more.
Is there any verification process with BDSMDate.com?
No, there is no verification process required when signing up for an account on BDSMDate. However, explicit material, including nudity are prohibited from being uploaded publicly to keep things tasteful while still allowing social connection among likeminded individuals.
Are there any other perks of using BDSMDate.com?
Aside from helping you quickly search for potential partners or submissives, BDSMDate also provides a variety of additional features, such as the ability to post status updates/blogs and join groups/clubs dedicated to various fetishes or areas within the community.
Top 5 Alternative Hookup Sites