Alt.com Dating Site Review
Alt.com is an online dating platform that caters to individuals who are into alternative lifestyles, such as BDSM, bondage, and kink. It was launched in 2002, and since then it has become one of the most popular and trusted BDSM and fetish communities in the world. The site boasts millions of members from all over the globe, which makes it a great place for those interested in exploring their kinky side to find like-minded people. In this article, we will take a look at what Alt.com has to offer and provide an honest review of the platform so that you can make an informed decision about whether it is right for you.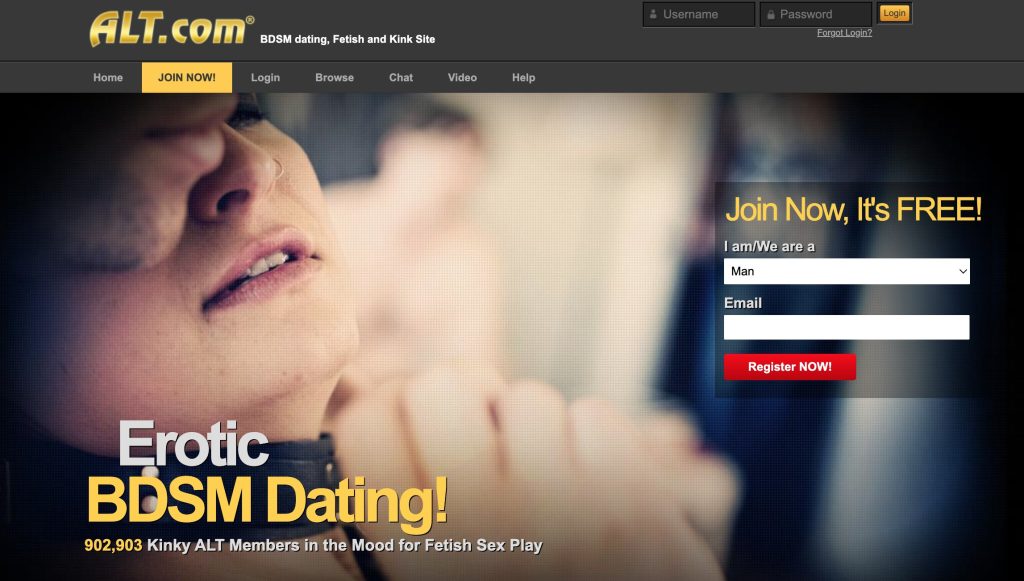 Do's and Don'ts when Using Alt.com
👍Do's
👎Don'ts

Be honest and open with potential partners about your intentions and desires.
Treat everyone with respect and courtesy, regardless of gender, sexual orientation, age, or any other factor.
Take the time to get to know people before meeting them in real life—ask questions, exchange emails, and even chat over video if possible!
Protect your privacy by reviewing Alt.com's security features, such as encryption technology and verification processes.
Ask for help from Alt.com's support team if you run into any issues or have concerns about your safety on the site.

Don't be pushy or aggressive towards other members—respect their boundaries and don't try to pressure them into doing anything they're not comfortable with online or in person.
Don't lie about yourself or what you look like in your profile—people will eventually figure out the truth! Honesty is always best when it comes to making connections on Alt.com.
Don't send money or give away personal information such as your home address to anyone you meet on the site – no matter how much you trust them!
Features Overview
Alt.com offers a wide range of features for its members, including:
A detailed profile system that allows users to list their interests, fetishes, and more
Comprehensive search options that enable users to narrow down their potential matches based on key attributes like age, gender, location, availability for meetings or chat sessions, physical features and more
An integrated blog system where users can write blog posts and share them with others
A safe environment with strict user agreement rules to ensure that all interactions are consensual
Chat systems where users can connect instantly with other members in private rooms or public chat rooms
A secure payment gateway so that users can subscribe to the service without worry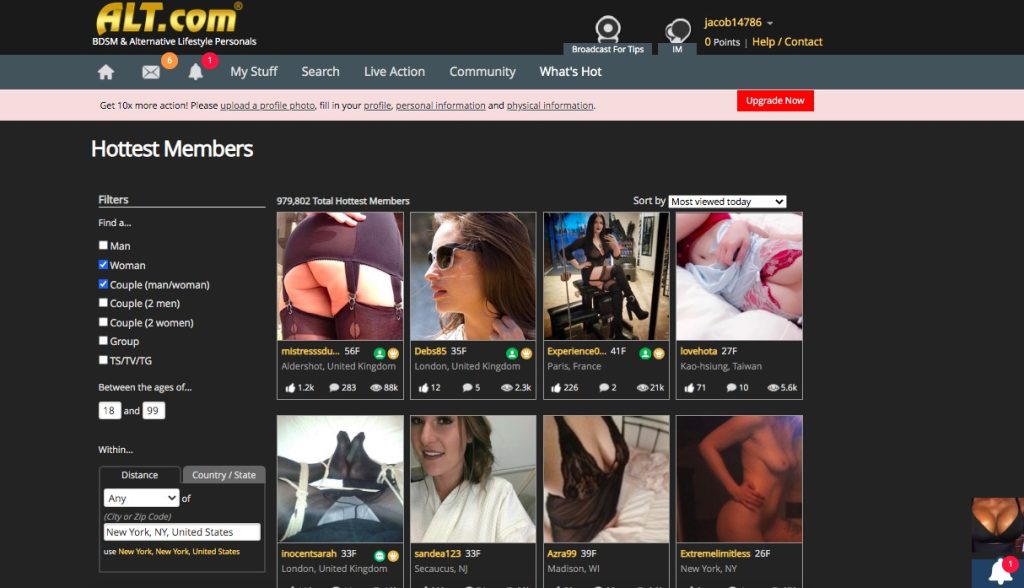 Signing Up Process
Signing up on Alt.com is easy and fast; new members just need to enter their email address and choose a username before they can start exploring the site. Once they have signed up, they need to create a profile by answering some questions about themselves and their ideal match—this information is used by the algorithm to suggest potential matches for each user based on their preferences. After completing this step, users can start browsing other member profiles or search for people who fit specific criteria using the comprehensive search filters available on Alt.com's homepage.
Membership Options
Alt.com offers two types of membership plans: Standard Membership (Free) and Gold Membership (Paid). With a free account users get unlimited access to messaging & chatrooms but limited access when it comes to viewing other member profiles & photos; Gold Members get unlimited access across all features available on the platform; they also get special discounts when subscribing for longer periods than one month (6 months/ 1 year subscriptions). The fees range from $20 up depending on how long you would like your subscription period to last; Full pricing breakdowns are available at www.altdatingreviews/pricing/.
Pros & Con
Pros:
Easy signup process
Comprehensive search options
Safe environment
Supportive customer service team
Cons:
Limited access with free accounts
Fees required for full access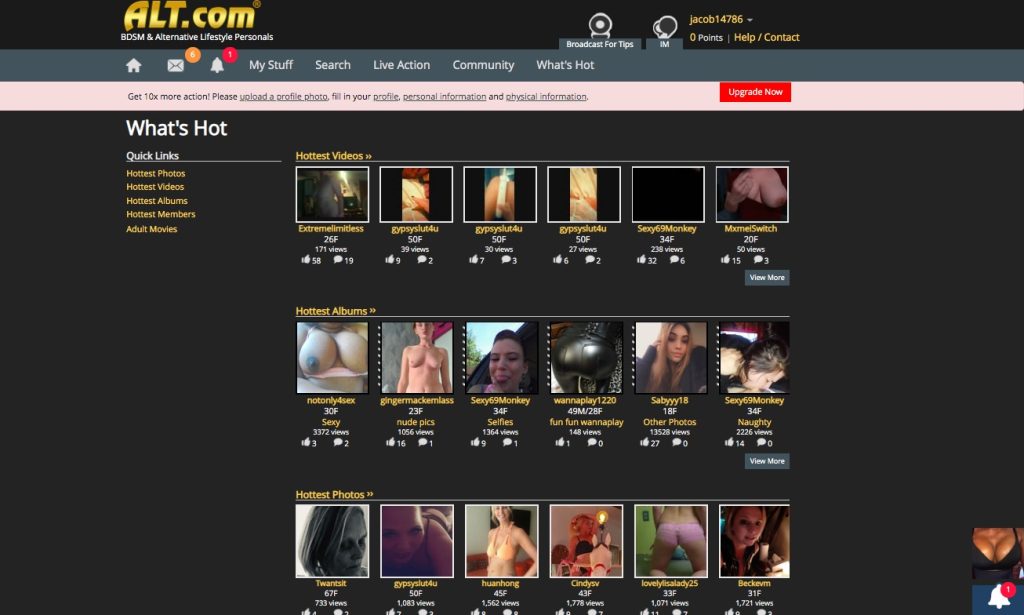 How to Meet Someone on Alt.com
Alt.com offers a variety of features to make meeting someone special easier and more convenient. Here are some tips for getting the most out of the site:
Create a profile that accurately reflects who you are and what you're looking for. Include recent photos and detailed descriptions so other members can get a good sense of your personality and interests.
Use the search function to find members whose profiles match your desires.
Use Alt.com's real-time messaging feature to start up conversations with people who interest you, or join one of the site's many chat rooms and talk to several people at once!
When talking to someone online, don't be afraid to ask questions, share details about yourself, and decide if this person is someone you would like to meet in real life when it's safe or appropriate.
Be honest with yourself about your feelings and intentions—is this just an online flirtation or did something spark a deeper connection? If it seems like there could be potential for something more serious, take the time to get to know each other better by arranging video chats or exchanges of emails before committing to a physical meeting outside of Alt.com's safe confines.
Conclusion
Alt is a great place for those looking for more than just traditional relationships or casual encounters—it allows people who are interested in exploring alternative lifestyles or experiences connect with each other securely and safely from the comfort of their own homes. With its extensive member base and variety of features, it's sure to find someone special no matter what kind of relationship you're looking for!
FAQs
What is Affairdating.com?
Affairdating.com is an online dating site specifically designed for people looking to engage in extramarital affairs and discreet relationships. It offers a secure platform to explore fantasies and connect with other like-minded individuals from the comfort of your own home.
Is Affairdating.com safe?
Affairdating.com takes safety and security very seriously, employing various methods such as verification processes and encryption technology to ensure the confidentiality of its users' identities and activities while on the site.
Who can use Affairdating.com?
Anyone over 18 can join Affairdating.com, regardless of gender or sexual orientation—it's open to everyone!
Top 5 Alternative Hookup Sites